25% Sale @ SACO for SABB Credit Card Users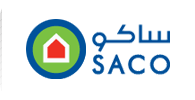 We just received a text confirmation that on November 16-18, 2011 (3 Days), All SACO branches will have their 25% Discount on all purchases using SABB Credit Card. This will be a good time to buy Hand Tools and Power Tools. SACO provides Home improvement items. You can also find computer tables, cooking wares, Dining wares and more. SACO is popular for having a wide range of Hand Tools and Powers Tools such as grinder, drill, planer, spanner and more.
Kids can also get toys like basketball rings and slider. There is also exercise equipment's available in SACO. So this is good news for SABB credit card owners. Last time was 35%. Even this week's discount is 10% lower; I think it is still a good deal.
Check SACO Stores and their closing time
Related Search Terms:
saco riyadh saudi arabia, saco world riyadh catalogue, galaxy s3 price in ksa, saco riyadh stores, saco world riyadh saudi arabia, saco riyadh catalogue, saco stores riyadh, saco world catalog