Cebu Pacific 100 Lucky Juan Contest and Juan for Fun

Cebu Pacific (PSE:CEB) is now preparing for their first flight from Manila to Dubai. It has been announced recently that Cebu Pacific will operate a direct flights from Manila to Dubai beginning October 7, 2013. They will be the only Filipino carrier to fly direct to Dubai.
Daily flights from Manila to Dubai are scheduled to depart at 4:40PM (Manila time), while flights from Dubai to Manila depart at 11:10 PM (Dubai time). It will be the budget airline's first long haul destination.
100 Lucky Juan Contest
Cebu Pacific is generous to make the contest dubbed as 100 Lucky Juans Contest. The contest will give away 100 lucky Juans free round trip ticket from Dubai to Manila on their first flight. It is so easy to Join, you just have to share them on how will you make your homecoming fun. Cebu Pacific will choose the best answers among the entries and provide them a free ride to Philippines.
But there is a requirements as follows:
25-65 years old; a Filipino citizen who has been working in the Middle East for at least one (1) year
You must not have been back to the Philippines for at least one (1) year
You must be eligible to take a vacation leave, approved by your employer, beginning Oct. 7, 2013 onwards. Return flight option dates include:
You must be a fan of the Cebu Pacific page on Facebook
You must be an active or new subscriber of GMA International Channels in the Middle East
The entry should answer the question: "HOW WILL I MAKE MY HOMECOMING FUN?" Your entry can be as creative as possible (ex. photo collage, essay / photo essay, video) provided that it will not exceed 200 words for essays, 2 minutes for videos, or one (1) photo collage per entry.
For me, whose working in the Middle East for almost 13 years, I will make my home coming fun by treating my parents on out of town adventure in the Philippines. I believe our vacation should be the time to unwind for a year work out of our country. So what is yours?
Your entries will be judged based on the following criteria:
Adherence to theme : 40%
Creativity : 30%
Length of Stay in the Middle East : 15%
No. of Facebook Likes : 15%
TOTAL : 100%
Winners will be asked to submit copies the following via email for validation purposes: Overseas Employment Contract # (OEC), Company or OWWA IDs, & Passport.
Submission will be accepted until August 18, 2013. More information can be found at Cebu Pacific Facebook Fan Page
100 Lucky Juan Contest week 5 Winners
Here are the list of week 5 winners for 100 Lucky Juan Contest as follows:
Juan For Fun PH Campaign Geared Towards Students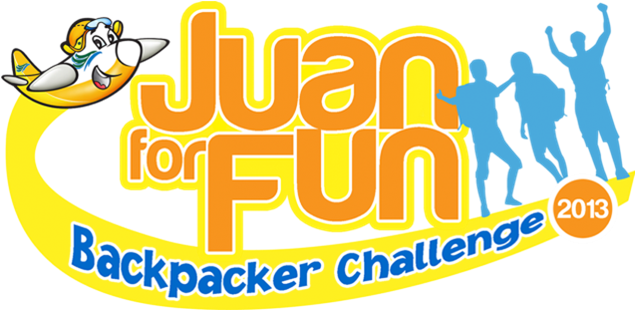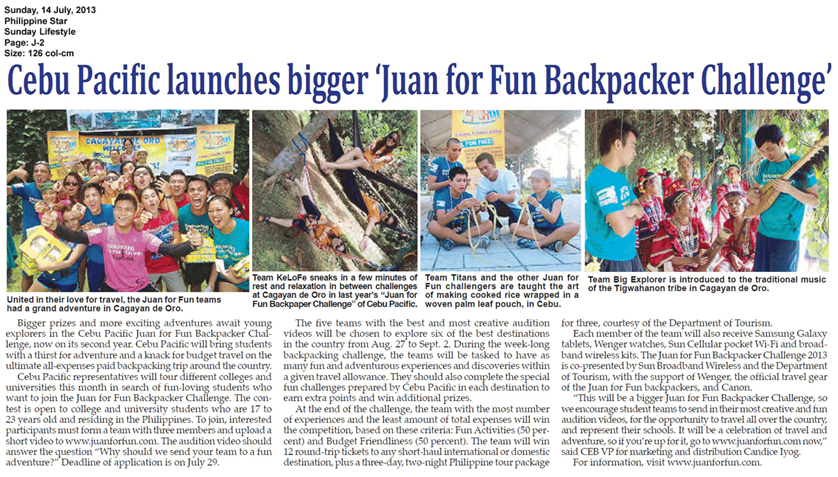 The Cebu Pacific Juan for Fun Backpacker Challenge, a contest that will bring five (5) teams of students to six (6) local destinations in the Philippines for an all-expense paid fun adventure, is open to students aged 17-23 years old, residing in the Philippines and enrolled in an under-graduate or postgraduate program in a college or university in the country for the school year 2013-2014
You just need to form a team of 3 college students, 17-23 years old and enrolled for the school year 2013-2014, you need to answer on why you should send your team to a fun adventure. And that's it you may be selected as a contender for the backpacker challenge.
More information can be seen at http://www.juanforfun.com/Â and Cebu Pacific Contest
The team with the most fun activities with lowest budget wins.
Champion will have trips to domestic and international destinations with Philippines tour packages, gadgets and more.
About Cebu Air Inc. (PSE: CEB)
Cebu Air Inc. is the largest carrier in the Philippine air transportation industry, offering its low-cost services to more destinations and routes with higher flight frequency within the Philippines than any other airline.
Disclaimer: This post is subsidized by Cebu Pacific for Public Information