For Filipinos : PRC To Conduct Nursing Licensure Exams in Riyadh, Saudi Arabia
This post is intended for our Filipino readers and those who have Filipino friends:
The Philippine Embassy have released an information through Press Release No. 119-2012, informing Filipinos in Riyadh Saudi Arabia that PRC ( Professional Regulation Commission) has approved the conduct of Special Professional Board Examination in Riyadh, for Filipino Nurses from October 25-27, 2012.
All Filipino Applicant can submit their accomplished application forms together with the requirements to the lead person to be designated by the hospital who will then forward the documents for evaluation to Philippine Overseas Labor Office (POLO), Philippine Embassy. The cut off date for submission of application shall be on July 31, 2012.
Further information can be obtained through the Filipino Nurses Association in Riyadh Saudi Arabia (FILNASA)
Contact the following person for more information:
Alina Articulo – 0533466462
Edna Torrecampo – 0508158134
Lisa Serrano – 0508151194
Liza Medina – 0567461318
Copy of Press Release :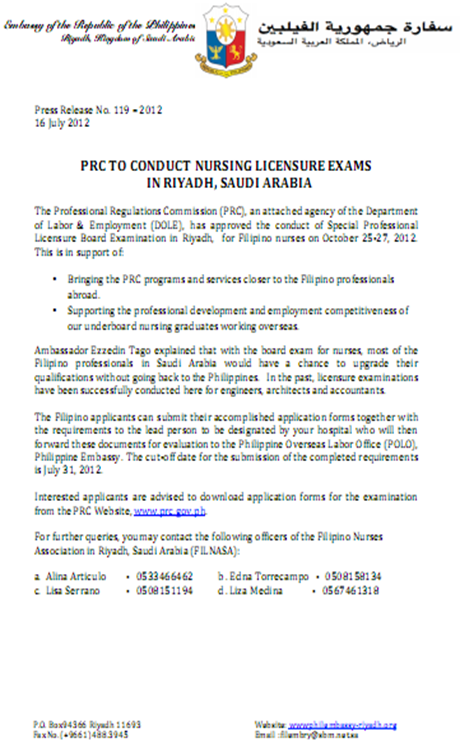 Related Search Terms:
www scheduled for nursing board exam 2013 in riyadh ksa, philippine board exam for nursing in saudi arabia, nursing board exam in riyadh