Galaxy Mini S5570 Down to SAR 699
Jarir Bookstore, decided to bring down the cost of Galaxy Mini S5570 as one of the great back to school offers.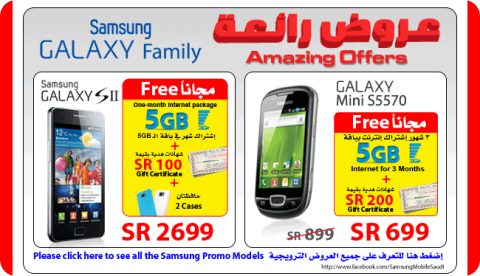 Here is the phone specification of Galaxy Mini S5570
Quadband Unlocked for any GSM provider EDGE/GPRS 850/900/1800/1900 Mhz; HSDPA 7.2Mbps, 900/2100 Mhz
3.2" capacitive touchscreen; QVGA (240×320) pixel resolution; 160MB storage, 384MB RAM, hot-swappable microSD card slot (up to 16GB)
160MB storage, 384MB RAM, hot-swappable microSD card slot (up to 16GB)Camera: 3 megapixel fixed focus camera
Wi-Fi b/g/n, Bluetooth 2.1 with A2DP, standard microUSB port, GPS receiver with A-GPS, 3.5mm audio jack
Package contents: Handset, battery, Manual, charger, USB cord, and 2GB micro SD with adapter
I think with it's cost of SAR 699 it's good buy to those looking for a cheap smartphone that rocks.  This smartphone has a small screen which is normal compared to it's cost. The best point of this phone is that it is run by Android. 160 MB storage with SD Card support is also a plus factor of this unit.
That is why it being marketed to students here in Saudi Arabia. Try to search for Galaxy Mini S5570 Full review in Google, and it will show you positive reaction among user who have tested this unit.
Before buying ask if Android Market Store is already installed in the unit, some android phone does not have android market installed as default in Middle east. So if you are not geeky and Android market is your preference of having new application from Android, be prepared to hack your phone.
If you are not prepared to do those things ask your friends and if still you don't have confidence better yet find another phone.
Related Search Terms:
jarir bookstore riyadh catalogue, samsung galaxy mini s5570 price in saudi arabia, samsung galaxy mini price in saudi arabia, samsung galaxy mini price in riyadh, samsung galaxy mini s5570 price in ksa, jarir store riyadh, galaxy mini price in ksa, extra offers in ksa, best stores riyadh, samsung galaxy mini price in ksa, samsung mini galaxy price in saudi arabia