How to Check Current Working Status (Company Category) | Nitaqat System of Ministry of Labor
Many of our site visitors here are looking for ways to check their current category or working status from their company. Please find below simple instruction on how to check your Nitaqat Color (Company Category)
Click here >>>>  COMPANY CATEGORIES  QUERY SERVICE FOR EXPATRIATES
Below  "Table 1″ (Separate Window) will appear then type your  IQAMA number at the box with XXXXX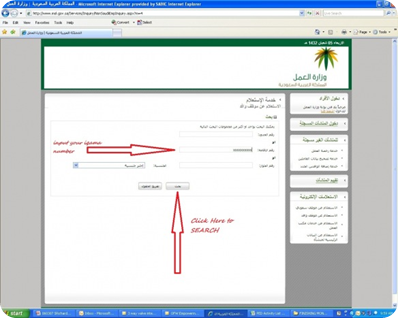 TABLE 1
B) After inputting iqama number press enter or click SEARCH indicated with red arrow. After clicking the SEARCH button shown in TABLE 1, YOUR NAME should appear as shown in the Table 2. (below)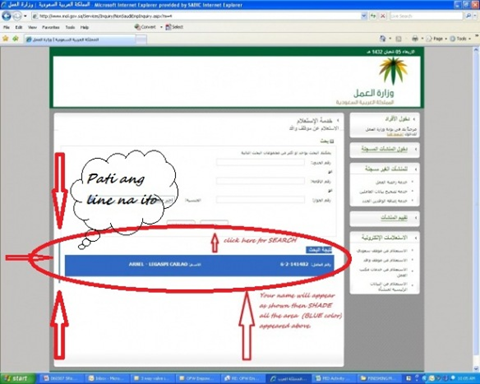 TABLE 1
B) After inputting iqama number press enter or click SEARCH indicated with red arrow. After clicking the SEARCH button shown in TABLE 1, YOUR NAME should appear as shown in the Table 2. (below)   
C)  Shade it From  Right to Left or copy or highlight your NAME same as shown in the BLUE SHADED AREA.
D) Click this link>>>>>> GOOGLE TRANSLATE ( USING  INTERNET EXPLORER only)
E) PASTE it in the ARABIC  box and click translate or the ENGLISH translation will automatically appear in the Right side.
1) Make sure that you shade or highlight from Left to Right all the arabic text as shown in TABLE 2 ( BLUE shaded area) before you paste it in the GOOGLE translation box.Make sure to extend the shade up to the line .if ever no category Color will appear, go back again, shade it "sagad" and copy paste to Google translation. Do it several times if needed.
2) If  translation "No specifications of  registered worker" appears  it means your company is not classified under the Nitaqat Rules.
3) Also take note below the following sample result from Arabic to English translation.
Thanks to http://ofwempowerment.wordpress.com for the above information
Related Search Terms:
NITAQAT BEST OF RIYADH, Nitaqa saudi, nitaqat iqama status, how to check nitaqat colour, saudi nitaqat check, nitaqat english version, www nitaqat net, www nitaqat best of riyadh, nitaqat iqama status check, nitaqat status checking, ministry of labour saudi arabia iqama status, nitaqat check status, www nithakth, nitaqat in saudia, how to check company status in nitaqat