iPhone 4S seen in Expatriates.com Available in Riyadh
While I was browsing the net, I saw this ad at expatriates.com , iPhone 4s Black cost SR 4000 for black and iPhone 4s White cost SR4200. The price is expected in the early stage but for sure before the year end, the price of this phone will definitely go down, specially when Mobily got hold of this unit.
There are lots f discussion about SIRI which is available from iPhone 4s
But for those who are in a hurry but have some money to spend. You may take one.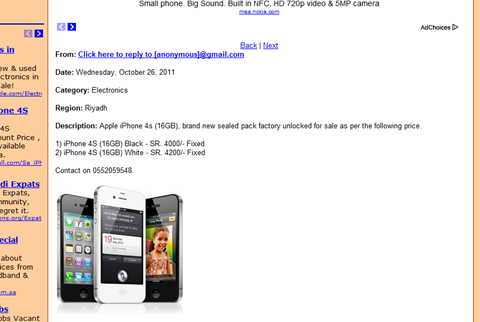 Disclosure : We are in no way connected to the seller. We just saw this in expatriates.com
Related Search Terms:
iphone 4s price riyadh, expatriates COM, latest price of iphone 4s in riyadh, expatriates riyadh, stc iphone 4s, iphone 4s stc