Press Release: Samsung Begins Galaxy Note7 Exchange Program in Saudi Arabia
We just received press release from Samsung representative in KSA, that they will start exchange program for the Galaxy Note7.Below is the exact copy of the Press Release that we received today. I hope this could be of use to our readers who have purchased Galaxy Note 7. You may check if your phone is updated as shown in the photo below.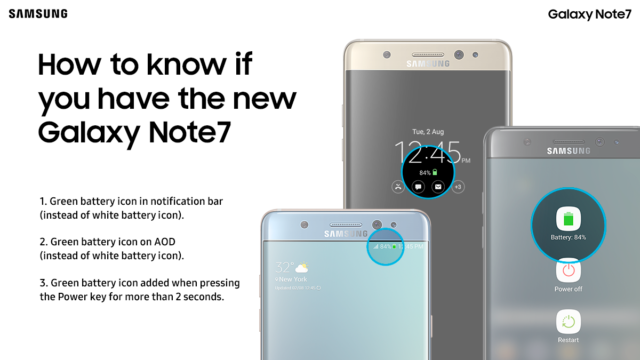 So here is the complete copy of the Press Release
Samsung Begins Galaxy Note7
Exchange Program in Saudi Arabia

 New measures also announced to ensure customer safety

Jeddah, Kingdom of Saudi Arabia – 4th October, 2016 – Samsung Electronics today announced the start of the Samsung Galaxy Note7 Exchange Program in Saudi Arabia where customers can begin to exchange their existing device for a brand new Galaxy Note7.

The start of the Galaxy Note7 Exchange Program follows Samsung's decision on September 2 to immediately stop sales and shipments of the Galaxy Note7, after an investigation revealed an issue related to an isolated battery cell.

Since this initial investigation, Samsung has worked hard to ensure the highest quality manufacturing and quality assurance processes are in place. Based on a thorough inspection, Samsung is fully confident that the battery issue has been completely resolved in the replacement Galaxy Note7 devices that will be available to customers in Saudi Arabia from today.

Although there have been only a small number of reported incidents (no incidents in Saudi Arabia), customer safety is Samsung's absolute priority. In addition to the beginning of the Galaxy Note7 Exchange Program today, Samsung will also introduce additional measures designed to protect customer safety and encourage Galaxy Note7 customers to exchange their device as soon as possible:

Software Update for Battery Charge Limit: Samsung Recently issued a software update to all pre-ordered Galaxy Note7 devices in Saudi Arabia that limits the battery charge to 60%. By actively limiting the ability of the device to charge to full capacity, Samsung aims to reduce the risk of incidents and simultaneously reinforce the message to customers that they should immediately replace their existing device with a new Galaxy Note7.

Customers who exchange their existing device for a new Galaxy Note7 can be fully confident that their replacement device is not affected by the battery cell issue, courtesy of a new UX update to the battery icon. Any Galaxy Note7 device that shows a 'green' battery icon on the device notification bar, the 'Power Off' prompt screen or the Always-On Display can be assured that the device is safe for charging.

Mr. KeeWon Park, President at Samsung Electronics Saudi Arabia commented: "Our absolute priority is the safety of our customers, thus we are requesting all Galaxy Note7 customers to act now and 'exchange today'. We would like to apologize to our Galaxy Note7 customers for not meeting the standard of product excellence that they have come to expect from Samsung, and we sincerely thank them for their understanding and patience. We are confident that by exchanging their existing device for a new Galaxy Note7, customers can expect to enjoy a smartphone experience of the very highest quality."

For more information on the new Galaxy Note7 Exchange Program, go to www.samsung.com, call 800-2474-357, or visit the nearest service centres or our trusted partners around the Kingdom.

-Ends-
Hope above press release will help you guys.