RiyadhEats.com Review: Digital Information and Guide About Riyadh Restaurant
Most expats and locals in Saudi Arabia have one thing in common, they love eating out. They want to try new restaurants and find the best places to hang out. As there are so many cuisines and restaurants to chose from in Riyadh, sometimes deciding where to go can be a little tricky, and a little bit of help can go a long way in making that decision much more enjoyable.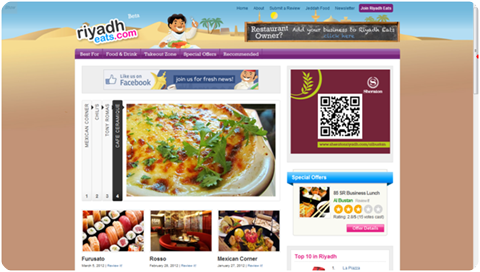 Well the wait is over because you can now get first hand accounts and real users restaurant reviews on a multitude of different restaurants and hotels in Riyadh on the new Restaurant Portal Riyadh Eats. RiyadhEats.com is now in its BETA phase but is open for use with an array of new features and mobile apps launching later this year.
Rashed Islam, Founder of RiyadhEats.com, informed us that a brand new iPhone App just for Riyadh will also be launched later this summer which is similar to that available from it's sister website (http://www.jeddahfood.com/). An iPad App for both cities is also in the works.
By visiting Riyadh Eats diners can get a great deal of useful information on restaurants, such as the location on a map, phone numbers, type of cuisine, price range, dress codes, mode of payment and much more.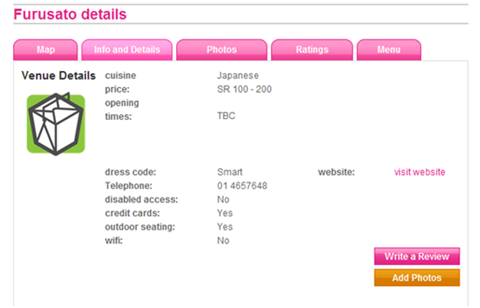 Captured from RiyadhEats.com
Restaurants can also be given star ratings by diners, which acts as a good indicator of the overall experience of the particular restaurant being reviewed.
The Location map is a big help for visitors, since it is very difficult to find the way to different streets here in Riyadh. Even I, who having lived here for almost a decade have some difficulties in getting to my destination from time to time.
Another great bit of information you can find in the reviews is the price range. It is really helpful for budget conscious customers, since it gives you an idea on how much they can expect to spend during your visit.
Riyadh Eats also gives information about special offers that could be enjoyed by food hunters in Riyadh. In addition to this, Riyadheats.com also recommends their top 10 restaurants.
The site already has an active following on Facebook and Twitter with over 6000 'likes' on the Riyadh Eats Facebook Page.
My family and I have for some time been using the site because we are fond of eating in different restaurants here in Riyadh. We love its simplicity. Its site navigation is so easy that even my kids can easily navigate the site.
It would be an advantage to our readers to also subscribe to them on Facebook or via their email newsletter and stay updated on all the new and different restaurants reviewed on the site.
Related Search Terms:
yhs-d2s_a, harga samsung galaxy s3 di arab saudi, harga iphone 5 di arab saudi, best restaurants in riyadh