Samsung Galaxy Note Available in Jarir Bookstore @ SAR 2,999
If you remember we have blog before that Samsung Galaxy Note is available in Riyadh. Now we would like to report that it is now officially available through Jarir Bookstore @ SAR 2,999.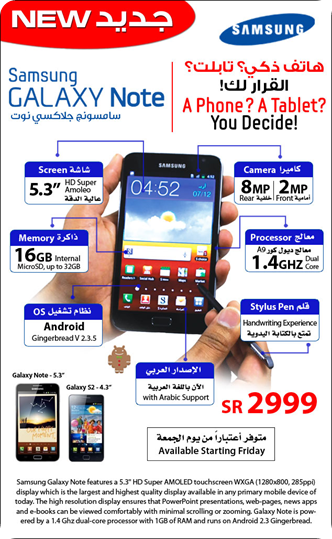 Image Capture from Jarir Bookstore
I will have to pass by Jarir, so we can test this unit and give our review. I have heard lots of good things about this phone. A smart phone Android Gingerbread Ver. 2.3.5 and with 16 GB Memory and Dual Core Memory is a perfect match for iPhone. I don't know if this is available in Al Batha.
Related Search Terms:
jarir bookstore samsung, samsung galaxy note price in saudi riyals, jarir bookstore SAMSUNG GALAXY NOTE, samsung galaxy note price in jarir