Saudi Arabia bans iPhones and Galaxy 'tablets' at Security Organizations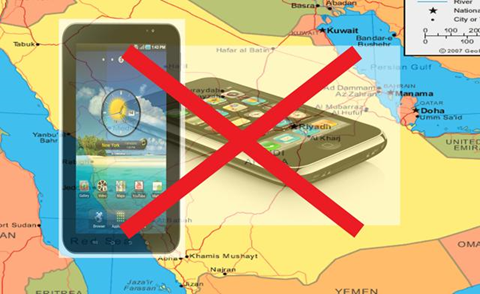 I just learn from Saudi News report that Saudi Arabian government issue a ban of use for iPhones and Galaxy Tablet as a precaution since those mentioned gadget could easily be hacked.
The Saudi interior ministry has issued a ban on the use of iPhones and Galaxy 'tablets' at its security institutions. The ban, imposed to protect these institutions, will take effect Saturday.

The cited security concern is that these high-tech telecommunication gadgets are easily infiltrated via hacking, the London-based Asharq Al Awsat reported on Friday.

A security source told the paper that the ministry has received orders to issue the ban inside institutions and security headquarters. IT specialists and experts reiterate the ministry's security concerns and agree that these gadgets can violate privacy of both people and institutions.

via alarabiya.net including pictures
Report says that Saudi Arabia is not the only country to issue the ban, but the United States and a number of European countries have done so too at their security organizations.
Thanks Saudi Mac
Related Search Terms:
Galaxy tab price in ksa, tablets in riyadh, samsung galaxy note price in jarir bookstore, lulu hypermarket riyadh catalogue, galaxy note in ksa, price of galaxy tab in saudi arabia, galaxy tab prices in saudi arabia, samsung galaxy s1 price in ksa, tablet ksa