STC Sale Center in Riyadh, Saudi Arabia
When I bought my Samsung Galaxy Tab, The first thing I tried to research is how will I be able to use an STC SIM Card to work on this tablet and how I could have internet connection wherever I go.
When I tried to call STC @ 907, I had a hard time in getting information on where I could get the SIM Card and STC Mobile modem. And I ended getting a STC Maak with USB Modem.
Anyway later I found out that there are some STC Sale Center in Riyadh, where you could get mobile Internet Devices such as , STC Quick MYFI, QuickNET 42, Quick Router Wifi, Quick Metallic and more.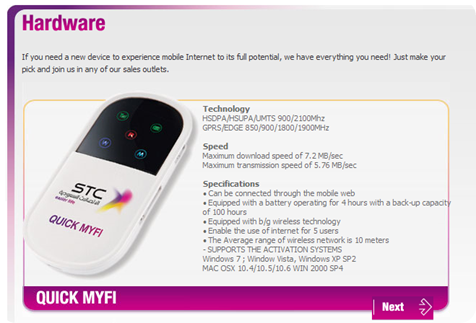 Picture Credit from STC Website
So here are the location where I saw an STC outlet selling this stuff, and we will update the information whenever I see a new one :
Al Jazira Supermarket – in front of Al Sadhan and near Jarir Olaya.
We will update this soon.
Related Search Terms:
stc riyadh, stc branches in riyadh, stc offices in Riyadh, stc outlets in riyadh, stc locations in riyadh, stc stores riyadh