Use Your Mobily Neqaty Points to Buy from Jarir Bookstore Carrefour and More
Did you know that you could use your Neqaty points to buy from Jarir Bookstore, Al-Hilal, Body Masters, Souq.com, Priority Pass, Carrefour.
Accoring to Mobily Website :
Neqaty … No Subscription required …
We do the work for you. No hassles, for all Post – Paid and Pre -paid mobily valued subscribers are automatically enrolled in Neqaty program.
1 SAR = 1 Point …
Every 1 SAR you spend on mobily products and services is appreciated with One Point and added to your account.
So you can exchange the points that you have accumulated to the mentioned stores above. as an example, You can have 16 GB Asus wi-fi  in exchange of 20,000 points. Fuji FinePix JX420 for 7,500 Points and so on. Please refer to the picture below.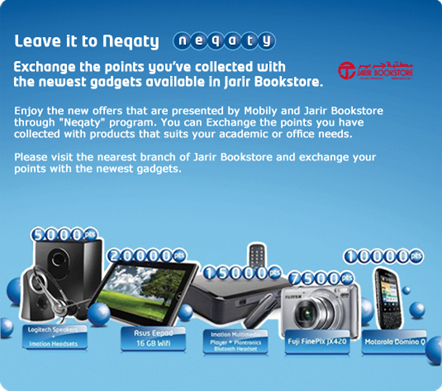 Jarir Bookstore
Carrefour
Souq.com
Related Search Terms:
jarir bookstore samsung galaxy s3, mobily neqaty, sony tablet price in saudi arabia, samsung store in riyadh, www mobily com sa/neqaty, www mobily com sa neqaty, Neqaty points, www mobily com sa\neqaty, mobily neqaty points, samsung galaxy note latest price in saudi arabia