White Friday 2015 Pre Sale on Souq Started
Update: You May Check Amazon.sa  for new great deals. They are now Open.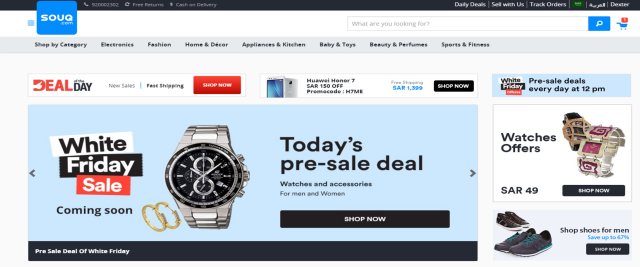 Black Friday Sale in United States is the day where the biggest online sale and offline sale happens. Millions of dollars are being spent on this day because almost all people know that on this day discounts are all over the place. In fact last year it was estimated to have 50 Billion plus expenditures on this day.
Souq.com saw the potential of this event, and last year souq.com started their White Friday Sale in Saudi Arabia. They have not yet announced the exact date of the event but I guess it would be on the same date of the Black Friday sale which will be on 27th November 2015.
As of this time, Souq.com has made a Pre-White Friday sale, where every day they are introducing discounted items. The previous items that was discounted are iPhone 5s, Jaguar Perfume, Home and Kitchen Items, Mobily Router, Nikon D3200, Watches and accessories.
Last year White Friday I was able to get some discounted items. Like free Pepsi and Lays from a gift certificate. I even made a blog post about White Friday Experience and Tips
The thing is you need to be updated on the items that is being posted on their site. I expect to have good items to be on sale on the next few days. You may always go to Souq Home Page to know the latest information or you may want to subscribe below to know the latest updates from Souq.
We hope to give you more updates about the White Friday Sale 2015. So if you want to save on your purchase, be sure to place your email above and confirm your subscription.
Disclaimer: We are promoting affiliate links of Souq.com, therefore if you buy something from souq.com through this website, we earn from those purchase and you are helping us in maintaining this site.