Will Samsung Galaxy S3 be Launch in Middle East on May 16th?
Samsung Galaxy S3 sneak peak invitation shown in Samsung Mobile Middle East Facebook page shows that Samsung Galaxy S3 will be launch in the Middle East on May 16, 2012. The smartphone has been launched last May 3, 2012 in London.
Here is the screen capture of the facebook page.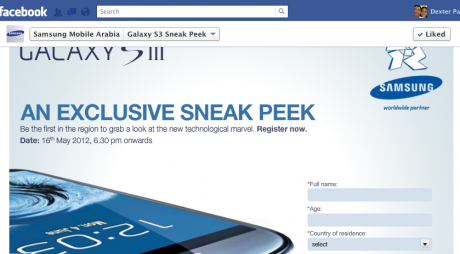 When I am about to enter my details, I came to know that the registration is only applicable to Bahrain, Kuwait, Oman, Qatar and UAE residents. So we don't know when it will be launched in Saudi Arabia. But I believe it will soon be launched just after it's Middle East Launch.
Here is the video released by Samsung Mobile Arabia posted in Youtube.
And here is a Galaxy S3 review that I found in Youtube for your information
We will update our post with it's availability and price in the near future. So make sure to subscribe in our mailing list above.
Related Search Terms:
samsung galaxy s3 PRICE in saudi arabia, samsung galaxy s3 price in saudi, galaxy s3 price in saudi arabia, samsung galaxy s 3 price in riyadh, s3 price in ksa, samsung galaxy s 3 price in saudi arabia 2012, samsung s3 price in saudi, galaxy s3 in saudi arabia, price of samsung galaxy s3 in saudi arabia, samsung galaxy s3 price saudi arabia, samsung galaxy s3 in saudi arabia, how much is samsung galaxy s3 in saudi arabia, samsung galaxy s3 saudi arabia price, samsung galaxy s3 price in jarir bookstore riyadh, price of samsung galaxy s3 in ksa