Withdrawal from PayPal Account to Saudi Arabia VISA Credit Card is now Enabled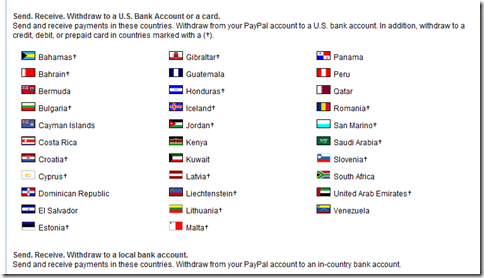 Online seller and buyer from Saudi Arabia have now reason to be happy. Just yesterday I got an e-mail from PayPal informing me, that I could now connect my Saudi issued VISA Credit Card to my PayPal account. And I could withdraw anytime to my VISA Card issued in Saudi Arabia.
It is not really very clear to me, how things will work for Saudi Paypal Account, since according to the PayPal any balance will be transferred to my VISA Credit Card at every first week for the month.
Anyway it is a really good thing to have a Saudi based PayPal Account. PayPal could be used in many ways in transacting online.
Just Press the link below to be enrolled in PayPal.
>>>> Enroll Here <<<<
Good Day.
* Update *
Here are some information received from PayPal
Hello

Now that you can receive payments, you can start selling with PayPal. Also, we want to tell you about an important feature of your PayPal account.

30 – day pending balance

Payments you receive go to your pending balance. Payments in your pending balance belong to you, but you can't use or withdraw them, usually for 30 days. After that, pending payments go to your available balance, unless PayPal is holding amounts for another reason, as specified in the PayPal User Agreement or other agreement that you have entered into with PayPal. After you have a successful selling history with us, we will make all your payments available soon after customers send you payments.

Why do your payment go into a pending balance?

* We've found that until you have a successful selling history, problems between sellers and buyers are more likely.
* Sometimes buyers ask their card issuer to reverse a payment. By putting your payments into a pending balance, we make sure you can return payments quickly to a buyer's account.
* The pending balance period gives new sellers a way to establish a successful selling history.

Withdrawals to your bank account in the U.S

You can let your withdrawals happen automatically. Your available balance is automatically transferred on the first day of every month to the bank account in the U.S that you've selected.

You can also withdraw payments yourself – any amount upto entire available balance. Here's how:

* Log in to your PayPal account and click Withdraw at the top of the page.
* Click the card or bank account you want to use.
* Enter the amount to withdraw and click Continue.
* Make sure that your information is correct and click Continue.

Withdrawals from your PayPal account appear as credits on your card or bank statement. You can also find withdrawal information on your Account Overview.

Start selling with your account

Questions? Let us know

We understand that you'd like to have immediate access to the payments you receive, and we're here to answer your questions about this change to your account. To contact Customer Service, log in to your PayPal account and click Contact Us at the bottom of any page.
Thanks,

PayPal
I Think this answers my question above.
Update : 02 April 2012
I have found out that if a certain company is always sending you on a monthly basis, their amount will be easily converted to the available amount however if somebody send you for the first time, it will take a month to get the funds. For me Chitika and infolinks payments is being transferred to my available amount the moment it arrives my Saudi PayPal account. I have also tried to transfer an amount to my VISA credit card and it cost me $5 for the transaction and money is received after 5 days.
Related Search Terms:
online shopping in riyadh, online shopping saudi arabia, paypal saudi arabia, paypal ksa, paypal riyadh, shopping online riyadh, paypal in riyadh, paypal in saudi arabia, Paypalksa, ipad 3 prices in riyadh